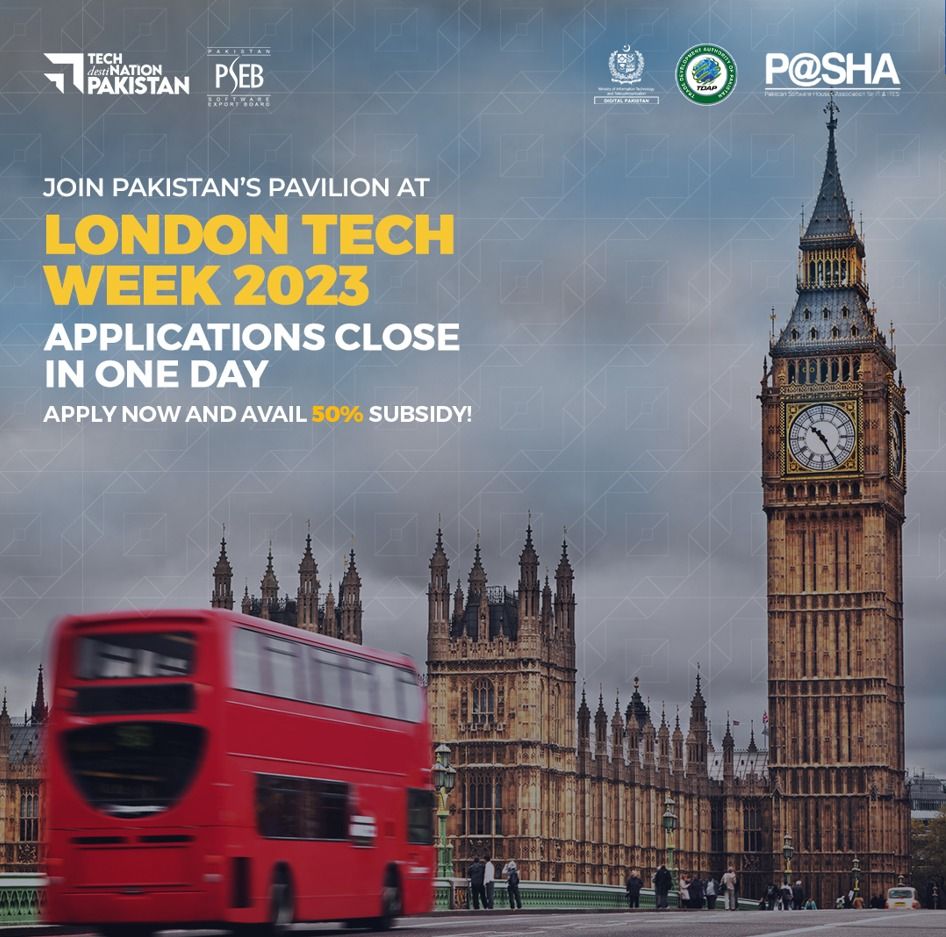 London Tech Week is a global celebration of tech, uniting the most innovative thinkers and talent of tomorrow in a week-long festival. Showcasing how tech is transforming business and society, London Tech Week drives thought provoking conversations around innovation, diversity and transformation, providing a platform for the tech ecosystem to come together to drive change. Pakistani companies participated in London Tech Week 2022 and managed to secure valuable business leads and networking opportunities. We've received great response to London Tech Week 2023 EOI.
Excited to share that PSEB in collaboration with TDAP & PASHA is setting up Pakistan Pavilion at the 10th edition of London Tech Week, happening from June 12 – 16th, 2023. PSEB has secured exhibition space to setup Pakistan Pavilion that will accommodate 12 companies and a dedicated meeting space. Total cost for one pod is GBP 7,500 and PSEB is offering 50% subsidy on stall cost i-e: GBP 3,750 subsidy by PSEB. Selected companies will directly pay total amount i-e GBP 7,500 to the organizers. Subsidy amount will be paid before the event to enable member companies to prepare for impactful representation. Amount will be reimbursed after the company has made full payment to the organizers (proof of payment / acknowledgement from organizers will be required). Payment details to be shared later with finalized companies.
The tour/lead report, ticket, and boarding pass for both arrival and departure is mandatory after the event.
We would like to invite PSEB member companies specially female members to apply at this online form by April 1, 2023 for participating in London Tech Week 2023.
We look forward to working together to promote Pakistan's IT industry on the global stage.
https://docs.google.com/forms/d/e/1FAIpQLSeJNfu48TbybpNNQw_xEYpLNoYSg0cFgFMF0YEC8OZax9Xtyg/viewform?usp=share_link