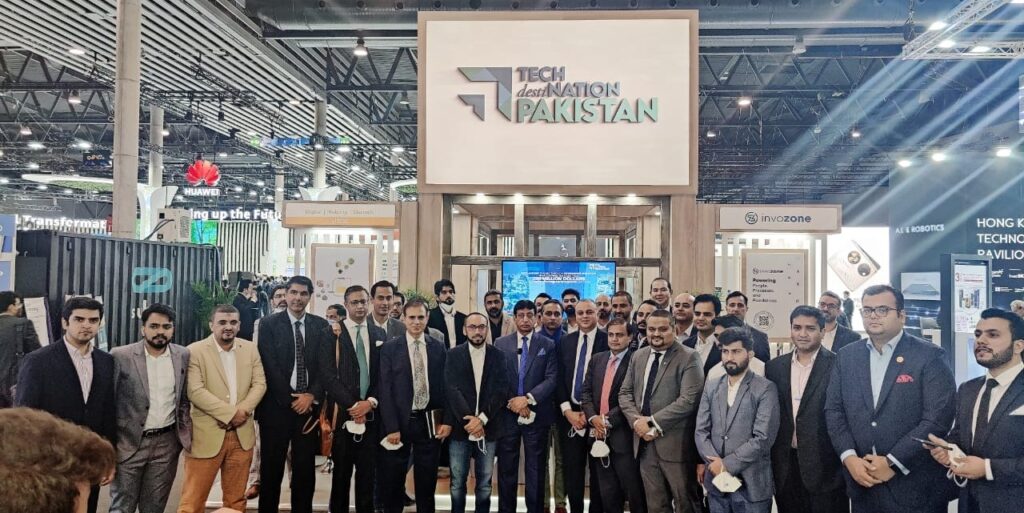 February 28th, 2021: Pakistani IT and ITES companies are making their presence stronger at the MWC Barcelona happening in Barcelona, Spain from February 28th to March 3rd, 2022. Pakistan pavilion branded as "Tech Destination Pakistan" was inaugurated by the Federal Minister of IT and Telecom, Syed Amin ul Haque in the presence of Mr. Osman Nasir – MD PSEB, Mr. Zohaib Khan – Chair of P@SHA's Brand Pakistan Committee, Mr. Haaris M. Chaudhary – CEO USF, and Mr. Ajmal Awan – DG International Coordination at the MoIT&T.
Pakistan pavilion is powered through a major subsidy by Pakistan Software Export Board (PSEB) as part of its initiative of promoting the brand of "Tech Destination Pakistan" in collaboration with Pakistan Software Houses Association (P@SHA). Nine companies are exhibiting at the Pakistan Pavilion namely Evamp & Saanga, E-Ocean, Intellexal Solutions, InvoZone, Mercurial Minds, RepairDesk, Visnext Software Solutions, Secure Tech Consultancy, SC Technologies. The Pakistani delegation consists of 50 people including the visitors and personnel from the Ministry of IT and Telecom and PSEB. This has been the biggest delegation from Pakistan to MWC Barcelona till date. The details of all the companies can be found in this portfolio available here.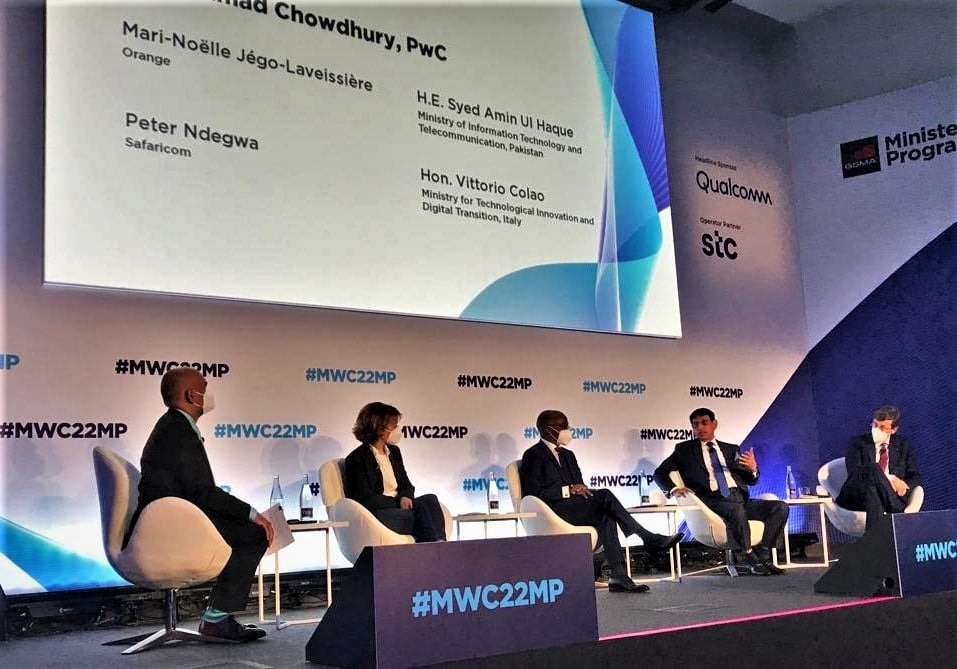 The Federal Minister of IT and Telecom, Syed Amin ul Haque also participated in the panel discussion on the topic of the Ministerial Programme at MWC Barcelona 2022. Mr. Haque emphasised on the importance of effective connectivity and access to the internet for an economy like Pakistan while talking about all the projects of increasing internet penetration through USF and policies for the cellular networks. Mr. Haque mentioned that his office is focused on connecting the far-flung areas of Pakistan to the world through internet connectivity apart from working on all the important policies for cloud, cybersecurity and personal data protection.