Announcing the IT Heroes for the P@SHA ICT Awards 2022 in Lahore on 2nd November 2022!
November 2nd, 2022: P@SHA (Pakistan Software Houses Association for IT & ITeS) held its 18th P@SHA ICT Awards on the 2nd November, 2022. The annual flagship event was held in Lahore this time at Nishat Hotel, Johar Town. This time all records were broken with a total 900+ Applications in 42 Categories which ramped up the hype for the ICT Awards. Applications came from all over Pakistan, from fledgling startups to big names that dominate their IT niche.
These submissions were evaluated by 80+ esteemed judges well-respected for expertise in their relevant fields. These judges shortlisted & evaluated 680 participants, making the P@SHA ICT Awards 2022 biggest in the 18-year history of the event – evidence of how it impacts the Industry and wider IT ecosystem in Pakistan.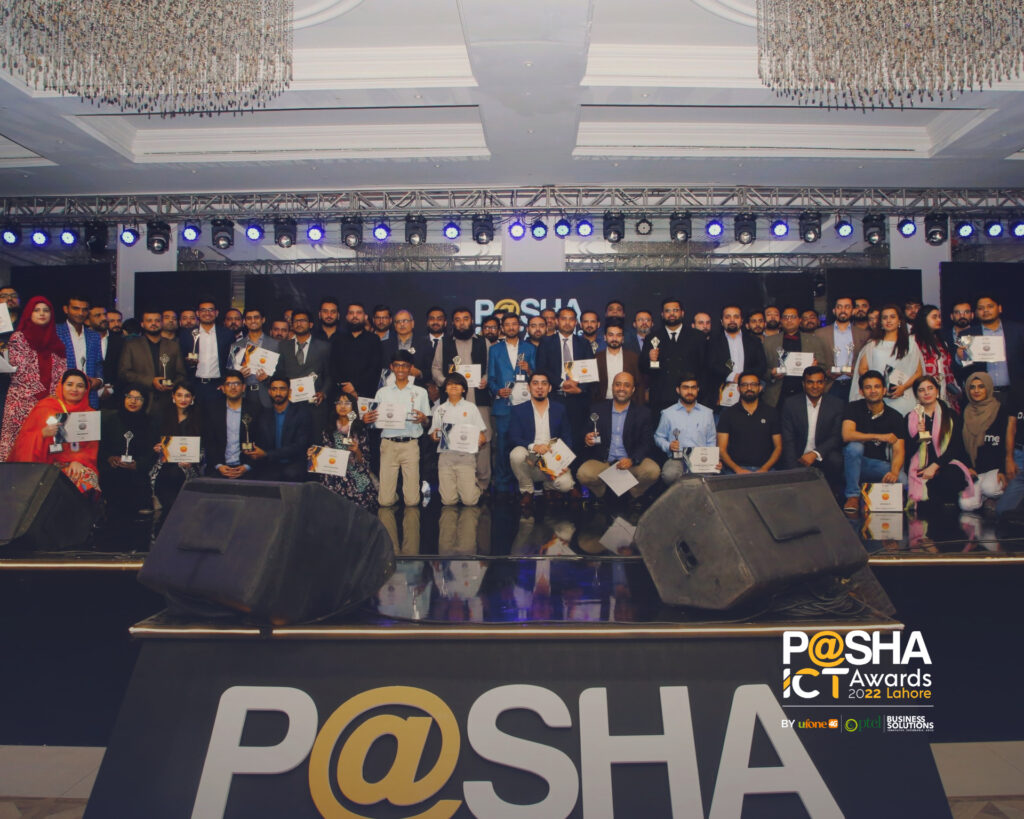 The Guest of Honors were Dr. Arsalan Khalid (Punjab IT Minister) and Mr. William K. Makaneole (US Consul General Pakistan). Other notable guests were Dr. Ayesha Moriani (Additional Secretary, MOITT), Mr Zhao Shiren (China Consul General), Mr Waqar Naeem Qureshi (DG IT Solutions), Mr Faisal Yousaf (DG IT Operations), Mr Sajid Latif (DG IT Governance, PITB), Mr. Junaid Imam (MD at Pakistan Software Export Board – PSEB), Mr. Zarrar Khan (Chief Business Services Officer, PTCL Business Solutions), Mr. Bilal Mahmood (MD, Contour Software), and P@SHA Chairman Zohaib Khan among other Central Executive Committee Members.
P@SHA always welcomed member companies, businesses, startups, and entrepreneurs but this time focus was also on students to highlight the brilliance & potential of Pakistan's youth via three student categories (junior, senior and tertiary). P@SHA brought the vision to "SCOUT, MOTIVATE, POLISH AND HIGHLIGHT THE IT HEROES OF PAKISTAN" for the P@SHA ICT Awards 2022.
The ceremony was hosted by P@SHA Secretary General Ms Hira Zainab and renowned RJ Sophie who took charge as emcee. For the first time Entertainment met Tech, both through the Lahori touch introduced by Kashif Ali (Dhol Performer) and the star performance of the evening by Farhan Saeed (renowned singer & actor).
P@SHA ICT Awards, the annual flagship event aims to provide a platform and recognition to the Heroes of the IT Industry which is one of the pillars of Pakistan's economy. It is an opportunity to gain local, regional and international exposure for all those who are a part of P@SHA ICT Awards journey.
None of this would be possible without our Sponsors whom we would like to appreciate, especially PTCL Business Solutions as the Title Sponsor and Netsol Technologies as the Gold Sponsor for this year's P@SHA ICT Awards. Contour Software also came forward as Silver Sponsor to support this mega industry event, along with Afiniti which stepped forward as the Category Sponsor for Artificial Intelligence, Payoneer which became Roundtable Sponsor for 'Best Practices for Digital Payments & Innovation in Fintech Industry', and Systems Limited which joined as Industry Partner for the 18th P@SHA ICT Awards.
The Chief Guest of the P@SHA ICT Awards Ceremony Dr. Arsalan Khalid – Provincial Minister for IT, congratulated the position holders and applauded P@SHA for its role in uniting the IT & ITES industry. He highlighted that the Punjab government is cooperating with the IT industry at every level and inducting representatives of P@SHA in all the relevant bodies and committees. He also apprised the audience on the potential of a recently signed MoU between Punjab Information Technology Board (PITB) and P@SHA to work closely on curriculum development and upscaling of IT skills across all divisions of the province.
Chairman P@SHA, Mr. Zohaib Khan, apprised that objectives of the awards are to promote, encourage and acknowledge the strides and accomplishments of IT industry; which will result in enhanced exports, employment generation, social uplift, skills development, woman emancipation, more revenues to the exchequer and economic development. It is a winning spiral all through, he added.
The Guest of Honor, Mr William K. Makaneole (US Consul General to Pakistan) presented the awards, networked with the attendees, and praised P@SHA for holding the best edition of the P@SHA ICT Awards he has seen till now.
The Awards ceremony concluded with group photos of P@SHA CEC and team with the US Consul General Pakistan, and group pictures of the Award winners with the Honourable Chief Guests.
Aside from the Awards Ceremony, P@SHA also conducted 4 policy roundtable discussions with the help of industry expert panels supported by roundtable partners. These enabled insightful & focused discussions on four key pillars of the Industry. The topics were:
Lost Decades & Securing the Future of the Knowledge Economy;
Swimming Upstream: the Journey from Ad Revenue to Player Purchases;
Branding Pakistan as a Global Tech Innovation & Talent Hub: Improving Visibility & Increasing Exports;
Best Practices for Digital Payments & Innovation in Fintech Industry.
The position holders of P@SHA ICT Awards are not only celebrated at the national level, they will also get to represent Pakistan internationally at the Asia Pacific ICT Alliance (APICTA) which will be held this year in Pakistan. This year they will be competing in APICTA on their home ground Pakistan against competitors from 16 other economies..
Presenting the IT Heroes for the Year 2022:
[table "65" not found /]
About P@SHA
The Pakistan Software Houses Association for IT & ITES (P@SHA) is Pakistan's sole trade association representing the IT and IT Enabled Services sector since 1992. Its mandate is to work with the government on policy issues and with all other stakeholders to promote the IT sector and provide platforms that create more opportunities for members of the ecosystem, both domestically and internationally.
CONTACT: Saad Mahboob
Head of Events & PR
P@SHA
Email: saad@pasha.org.pk