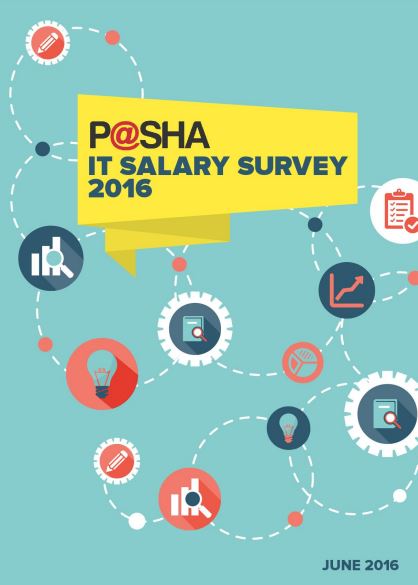 View Report
The 2016 edition of P@SHA IT Salary Survey identifies average salary nationally and city wise along with average increments, promotions and benefits for 28 job roles within the IT Industry. Each role has been subdivided into experience levels to present findings for 98 distinct job levels, and this year the survey features data from a total of 32,744 employees working in 132 participating companies. 61% companies and 17,177 (52%) employees are from Karachi, 30% companies and 8,508 (26%) employees are from Lahore and 22% companies and 7,021 (21%) employees were from Islamabad. 2 companies from Peshawar also participated in the survey this year.
There are three distinctions of job levels covered throughout the survey, an entry level function denotes 0-3 years of experience, middle level is supposed to have 4-6 years of experience and a senior function depicts 6+ years of experience (unless otherwise stated). Each function is presented on a unique page to maintain clarity and comprehension.
The survey reveals there has been an overall increment of 13.04% in salaries across all job functions when compared to 2015. The highest paid job function is the Chief Executive Officer (CEO) who on average earns PKR 484,520 (which is an increase of 26.4% over 2015). The highest increase in salary this year has been witnessed in ]Senior Web Developer role with a growth of 37.06%. On the other hand, the position of a Python Middle Level Programmer witnessed the largest decrease of –12.7% in salary.